THE ENSEMBLE
These actors make up the rest of the cast. They have been having a ball on stage; acting, singing and dancing, to bring you the hilarious stage production of Some Like It Hot that will have you laughing your socks off and leaving the theater with a dance in your step and a tune on your lips. Click on their pictures for their list of credits.
"Well nobody's perfect...", except, of course the cast of Some Like It Hot!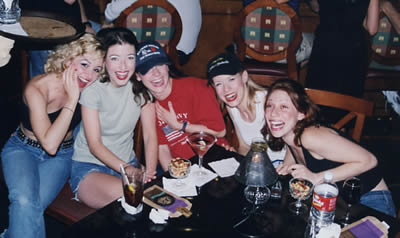 Opening Night cast party: Jodi, Sarah, Elizabeth, Karen, and Ashlee
react to Tony entertaining them with a Hollywood story.