HOT EVENTS
Tony Curtis congratulates Carol Channing at the Detroit Fisher Theater
The second annual Apple Award was given to legendary Broadway performer Carol Channing in a ceremony at the Fisher Theatre last week.
The award, a crystal apple, is named after the late Sarah Applebaum Nederlander, matriarch of the Nederlander theater family that owns and operates theaters in Detroit and New York. The award raises money for Wayne State University's College of Fine, Performing and Communication Arts. The 200 guests were expected to equal or surpass last year's donations of $75,000.
Tony Curtis paid a surprise visit to congratulate Channing. Curtis is currently starring at the Fisher in "Some Like It Hot," which guests saw after their early evening strolling supper.
In a brief ceremony on the grand staircase, Channing, who is 81, looked smashing in a black velvet backless gown as she held the award.
"Apple will be with me always," she told the enthralled audience.
- Michael H. Margolin / The Detroit News
Dallas Gives a Big Texas Welcome to "Some Like It Hot" ! After a splendid opening night performance, the cast was invited out to a lavish reception at the DeGolyer House at the Dallas Arboretum and hosted by Mary Lee Cox, Mark Goodson and Clinton Kemp, Sharon Kraus, Jennifer and Steve Metzger, Len and Pam Musgrove, Dr. Dale Robinowitz, and Thomas and Laurys Swift. The party, arranged by Michael Jenkins, President of Dallas Summer Musicals, made the cast of Some Like It Hot welcome in Dallas.
| | |
| --- | --- |
| | |
| Timothy Gulan (Jerry), DSM Past Chairman Chuck Gummer, Arthur Hacket (Joe) | Producer Jeffrey Spolan, Chuck Gummer |
| DSM President Michael A. Jenkins, William Ryall (Spats) | Jodi Carmeli (Sugar), Michael Jenkins |
Kansas City at the open air Starlight Theatre was a wonderful adventure. The performances were enhanced by the surrounding Mother Nature. In spite of threats of rain several nights, only one performance was interrupted. After a pause for a brief downpour, the show picked up were it left off and continued to a warm and rousing reception.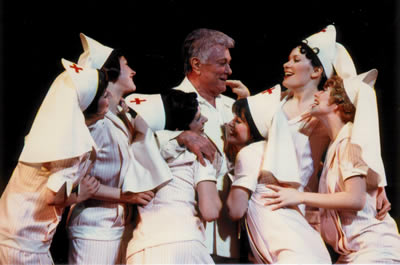 Atlanta's Fox Theater was Awesome! Some Like it Hot played in this magnificent theater for a week and eight performances. We were greeted with true southern hospitality and standing ovations each night. We were honored to present our show to such a warm audience reception.Photo Credit: 2002 Carol Rosegg courtesy of Dallas Summer Musicals
Thanks Houston! The Cast and crew of Some Like it Hot thank Houston and Sarfim Hall at the Hobby Center for one hell of a party! Our show opened to your standing ovation and your beautiful new theatre. It was our pleasure to help you open your new cultural center.
Gala Opening Celebration! Saturday, June 8th, there were even more stars in Houston. This was the Gala Opening Celebration for Some Like It Hot. The critics were there to officially review the show, and Tony invited his friends to show up, take in the show and celebrate.