--CANCELLED--One Month Visit by Rena Mirecka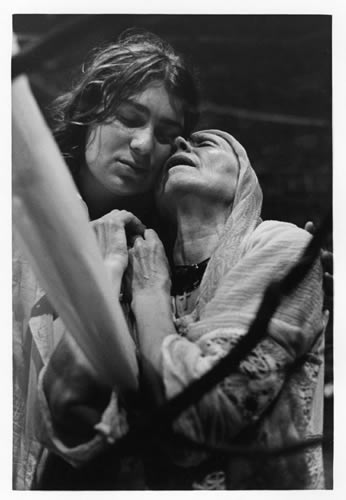 --CANCELLED--
Conference Flyer
The Center for Grotowski Studies is sponsoring a once-in-a-lifetime visit to the United States of one of Poland's most renowned theatre artists. Rena Mirecka was a member of Grotowski's original Laboratory Theatre and participated with him for over 25 years. Since then, she has developed the work of physical theatre and presented trainings and workshops all over the
world. She has been a continuing symbol of the best of Polish culture and theatre tradition.
Her visit to the New York area will include two separate 5-day workgroups to be held in New York City, followed by a special one-day conference at Fordham University, in which many of the major American theatre innovators will join Rena in examining the current state of physical theatre and its role in the social and cultural development of all countries.
Each Workgroup will consist of fifteen participants from the fields of theatre, psychotherapy, and related areas, who will journey with Rena into the realm of physical theatre and expression during a five-day intensive training.
The One-Day Conference will be hosted by Fordham University and will draw a wide audience from the New York humanities and theatre. Transcripts of these discussions and interactions will no doubt be published and commented upon in a number of publications and news stories.
This visit will offer an entirely unique and highly prized opportunity for students of theatre, actors, and scholars in the cultural arts to experience firsthand the work of Rena Mirecka as it has developed from its roots in Grotowski's Laboratory Theatre.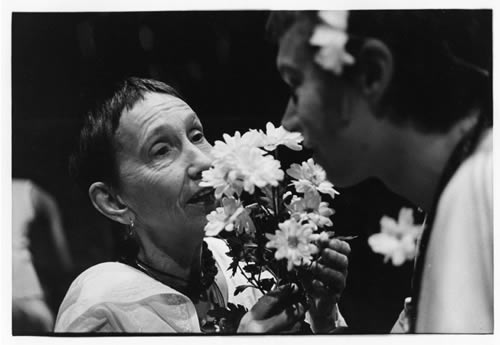 Center for Grotowski Studies
526 West 26th Street, Suite 309, New York, NY 10001
212-352-1184
Director
David Read Johnson
Assistant Director
Magdalena Nowakowska
Program Director
Zenon Kruszelnicki
The Center for Grotowski Studies is a nonprofit, charitable foundation dedicated to encouraging research and practice in the theories and methods developed by Jerzy Grotowski. The Center aims to facilitate communication among professionals regarding ongoing developments in Grotowski-based work, in the fields of theatre and performance studies, critical theory, anthropology, psychology, sociology, spirituality, and philosophy. The Center intends to develop a comprehensive listing of resources in Grotowski, including literature, media, groups, and individuals. The Center intends to offer scholarships to students entering Grotowski-related studies, and to faculty for international collaboration and travel. The Center also plans to sponsor conferences and seminars devoted to the dialogue among Grotowski practitioners and scholars.
Jerzy Grotowski was a pioneering explorer of theatre, acting, and performance who attempted throughout the many stages of his career to understand the essence of human expression. As he traversed his theatrical, paratheatrical, and post-theatrical periods, he challenged and stimulated the field of theatre as no other person has since Stanislavski. He is regarded as one of the most influential theatre practitioners of the twentieth century and one of Poland's greatest contributions to world culture.
David Read Johnson, Ph.D., is Associate Clinical Professor, Department of
Psychiatry, Yale University School of Medicine; the Director of the
Institutes for the Arts in Psychotherapy, New York City; and the author of
many books and articles on the use of theatre in psychotherapy and
culture-building.
Zenon Kruszelnicki, a Member of the Actors Studio, International Federation of Actors (FIA) and ZASP (Polish Actors Association). He received his M.F.A. in Acting from The National Academy of Drama in Poland. He worked with Rena Mirecka in Italy and Poland. He graduated in May 2000 with an MFA in Theater Directing from the Actors Studio Drama School at New School University in New York. In 1998 he was awarded by the Liberace Foundation for the Performing and Creative Arts. In October 1999 he received The Candle of Understanding Award in the Production of Talking Books from The Jewish Braille Institute of America.
Magdalena Nowakowska, MA Psychologist and a psychotherapist, works as a drama therapist for the AHRC, New York City, and is a member of the Institutes for the Arts in Psychotherapy.
The International Advisory Board of the Center for Grotowski Studies includes most of the major collaborators, scholars, and theatre practitioners of Grotowski's work from Poland and the USA.
Kazimierz Grotowski, Krakow (Honorary Chairman), Poland
Robert Cohen, University of California, Irvine, USA
Margaret Croyden, New York Times, New York, USA
Robert Findlay, University of Kansas, Lawrence, USA
Ludwik Flaszen, Paris, France
Andre Gregory, New York, USA
Stanislaw Krotoski, Grotowski Center in Wroclaw, Poland
Jenny Kumiega, writer, Shrewsbury, England
Zbigniew Osinski, Warsaw University and Grotowski Center in Wroclaw, Poland
Bill Reichblum, Bennington, Vermont, USA
Lawrence Sacharow, Fordham University, New York, USA
Richard Schechner, New York University, New York, USA
James Slowiak, Akron, Ohio, USA
Ellen Stewart, La MaMa, New York, USA
Lisa Wolford, Ohio State University, Bowling Green, USA